It is School Counselor Appreciation Week! Make sure you let Mr. Kupper know how much you appreciate him! #StormSTRONG

Good luck to our JV basketball teams today, as they head to Potter for the Potter-Dix Junior Varsity Basketball Tournament. The boys play South Platte at 3 pm, and the girls play the Blue Knights at 4:15 pm. Go Storm! #StormSTRONG

Good luck to our JH basketball teams, as they travel to Hyannis today. First tip-off is set for 1 pm. Go Storm! #StormSTRONG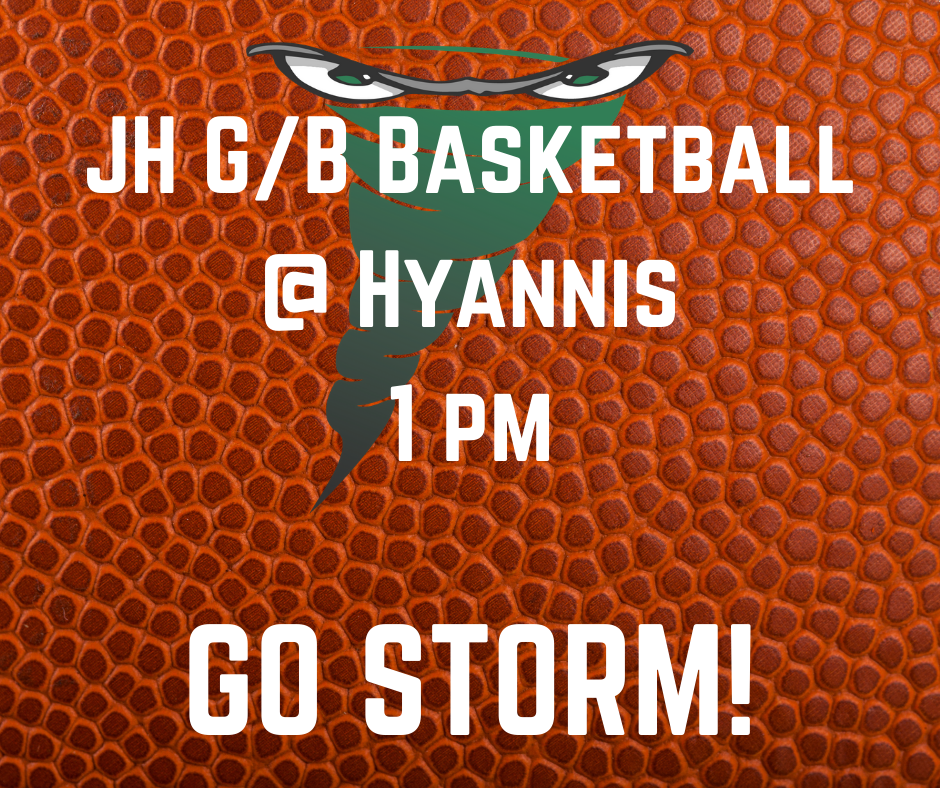 It is School Board Appreciation Week! If you see a board member, please thank them for all they do for CVS. #StormSTRONG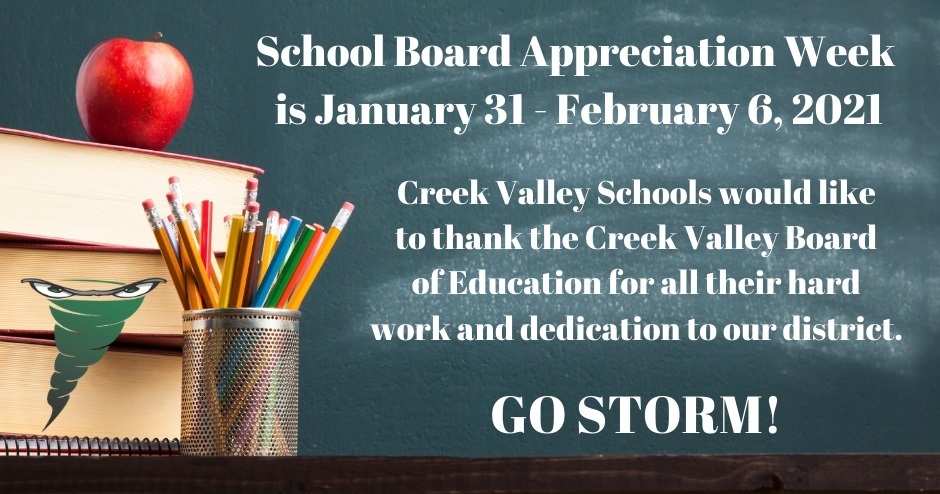 Congrats to the Storm Dance Team on their 2nd place finish at the Lexington Cheer and Dance Competition! They finished runner-up to North Platte for Jazz. GO STORM! #StormSTRONG

Good luck to our Storm Cheer and Dance teams as they travel to Lexington tomorrow for a competition. The girls have been working hard and are excited to compete. Go STORM! #StormSTRONG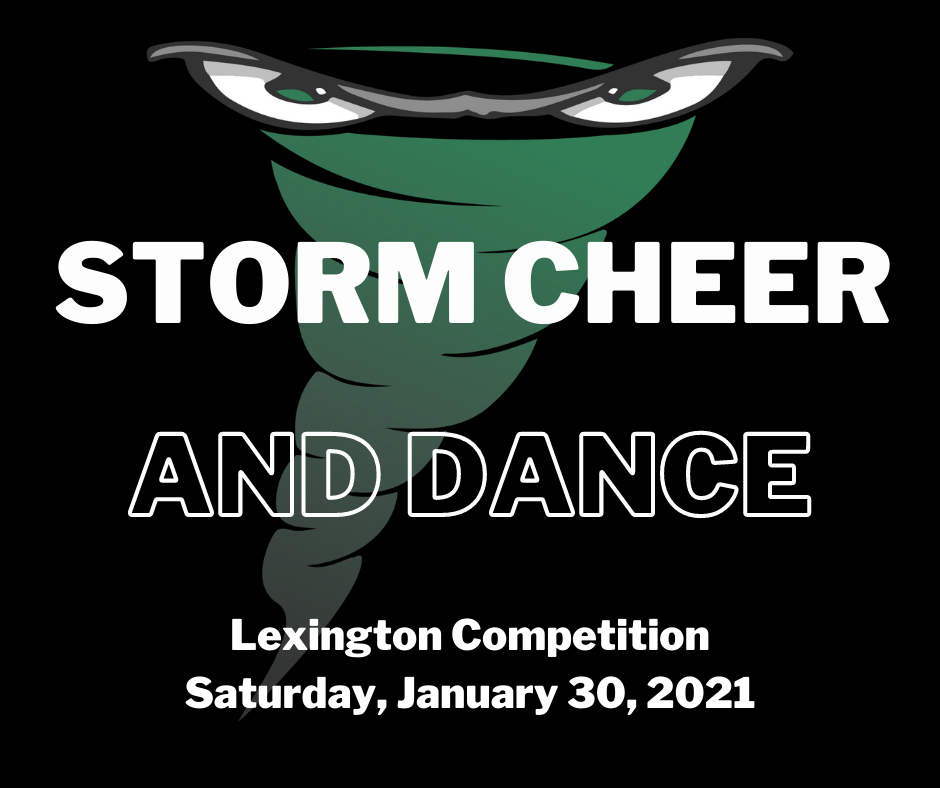 It's Gameday! The Storm take on the Eagles from Garden Co. this afternoon, starting at 4 pm with JV girls. Games can be streamed on our Youtube page at
https://www.youtube.com/c/CreekValleyStorm
. Good luck Storm! #StormSTRONG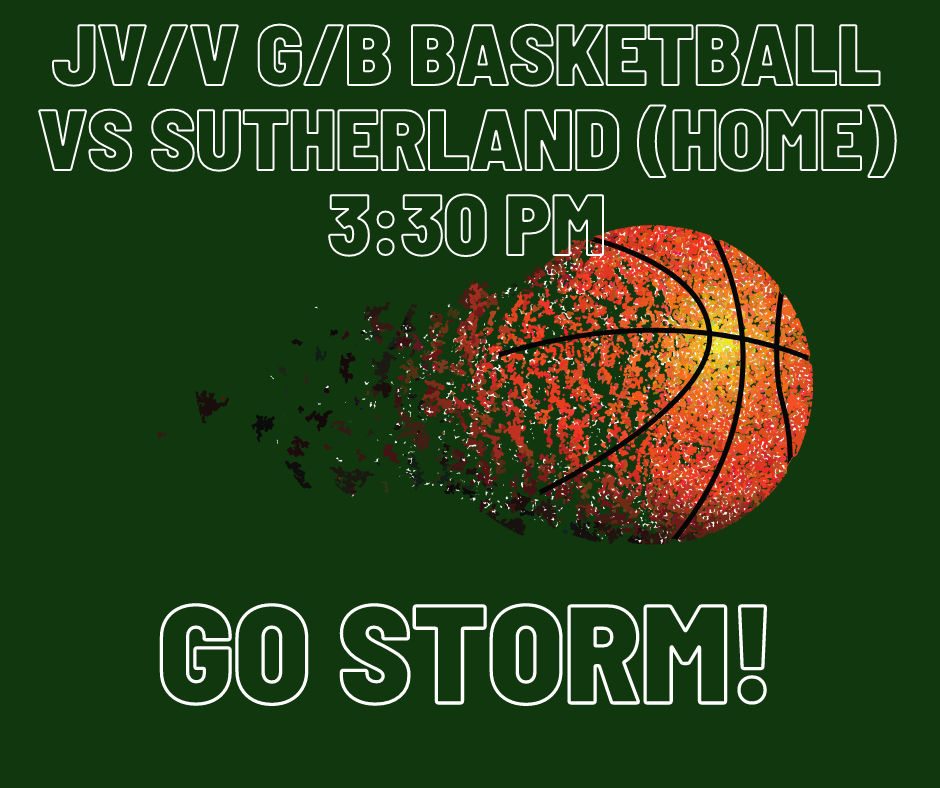 Good luck to our JH basketball teams traveling to Minatare today to battle the Indians. Game time is 1:30 pm. Only two people per player allowed at the game, and you must be on the list. Go STORM! #StormSTRONG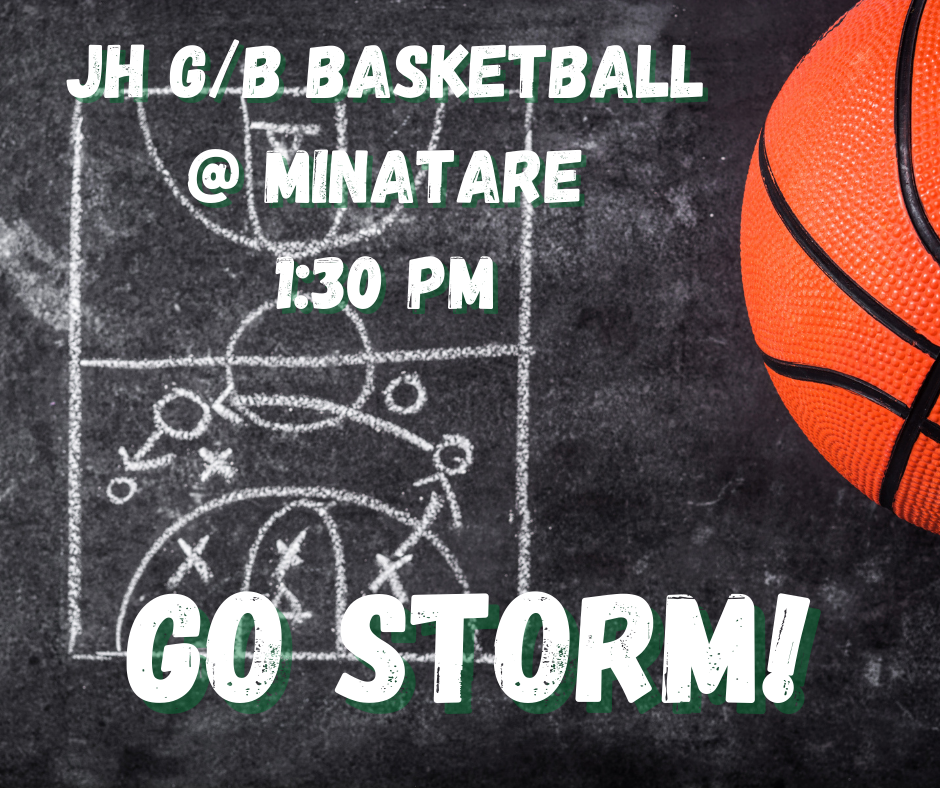 Good luck to our JH basketball teams today, as they host the Blue Knights from South Platte. Game time is 1 pm. As always, games can be streamed on our Youtube page at
https://www.youtube.com/c/CreekValleyStorm
. Go Storm! #StormSTRONG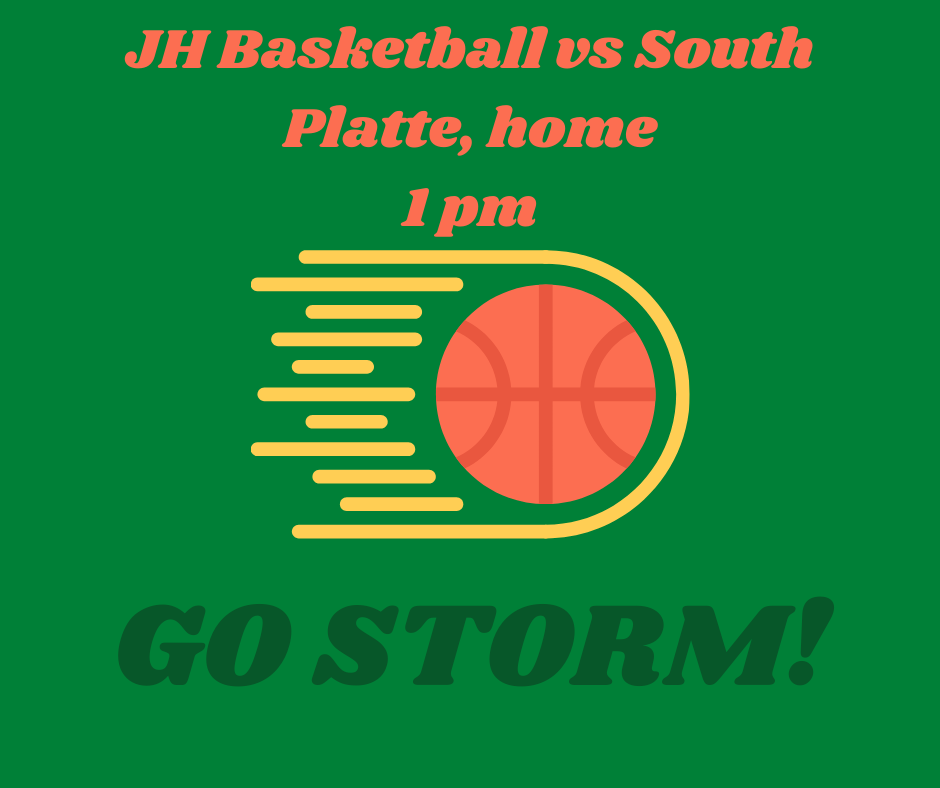 The basketball game that was scheduled for today against Sutherland has been rescheduled to Thursday, 01/28, at 3:30pm in Chappell. There will be two quarters of both girls and boys JV followed by girls and boys varsity.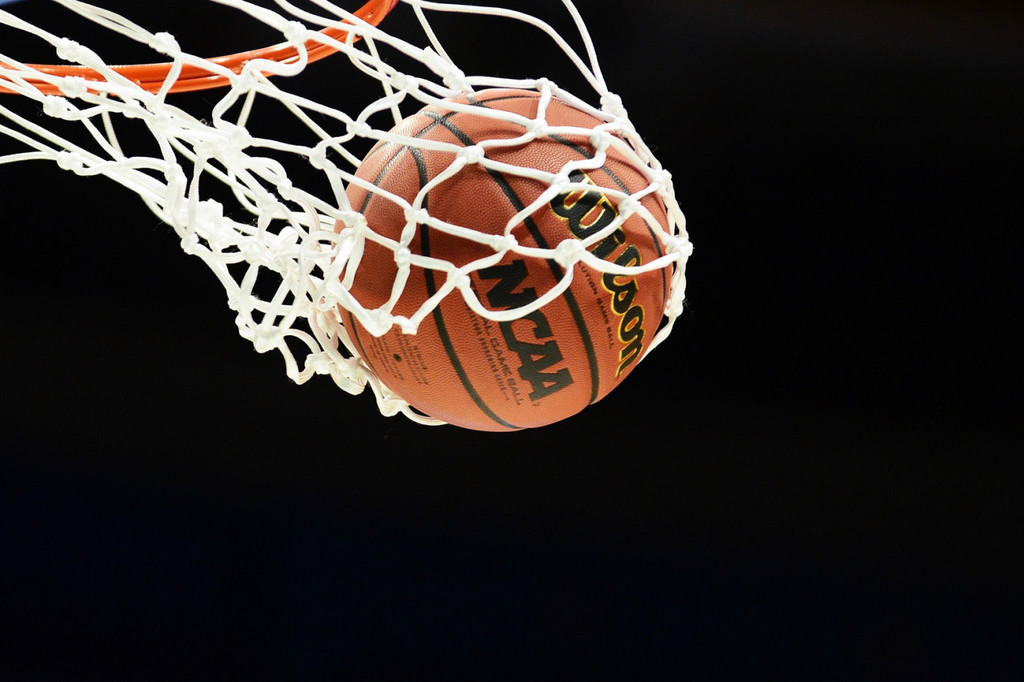 Another day, another Creek Valley student athlete signing a college letter of intent! KK Fletcher will be heading to Midland University in Fremont, to compete in Track and Field. She was able to experience her special day with her family and coaches. Good luck KK! #StormSTRONG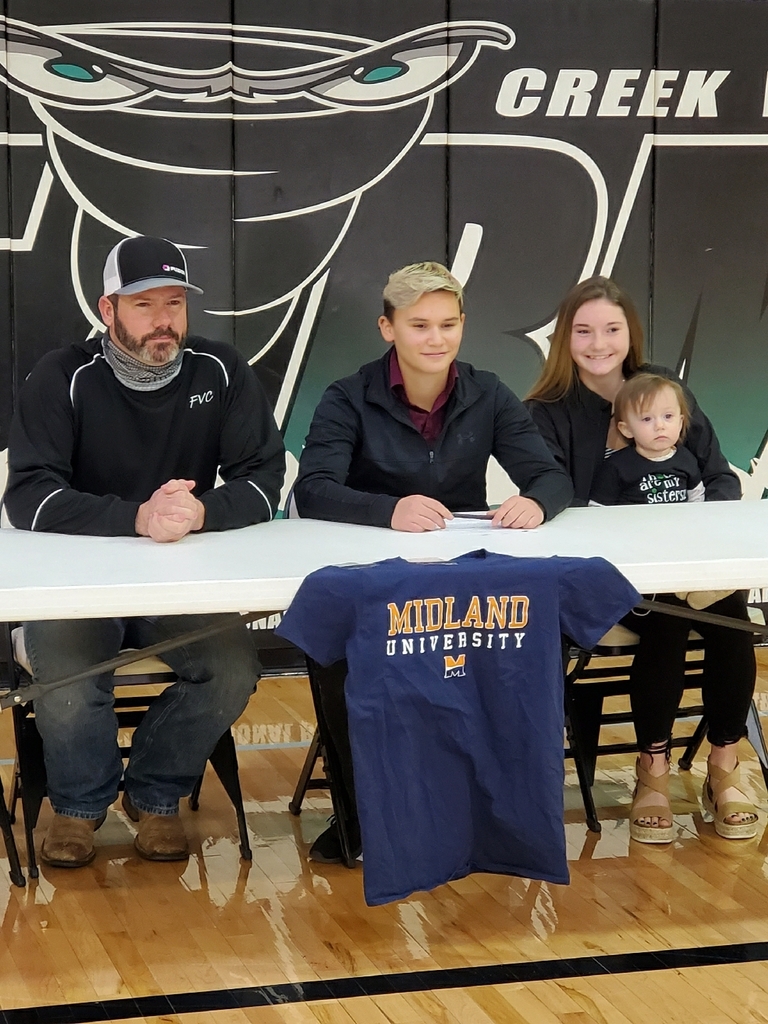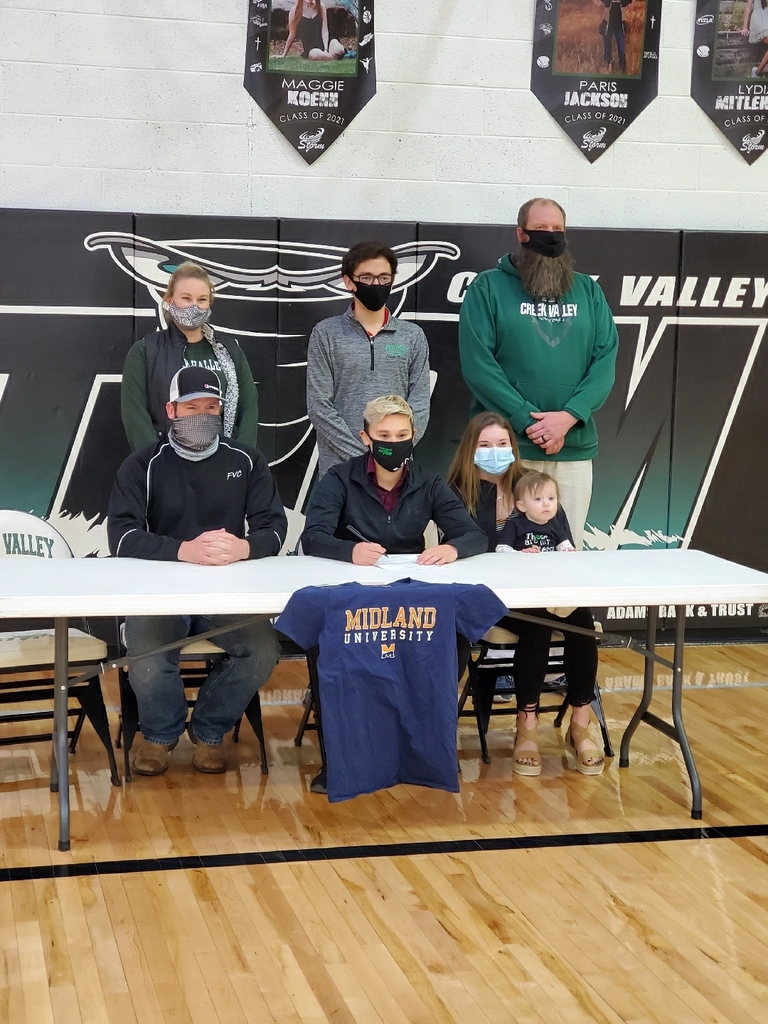 There have been some changes to this weeks basketball schedules. The games today against Sutherland have been cancelled and we are working to reschedule. Also, note the junior high game against South Platte will be in CHAPPELL. Minatare junior high games will now start at 1:30 on Thursday.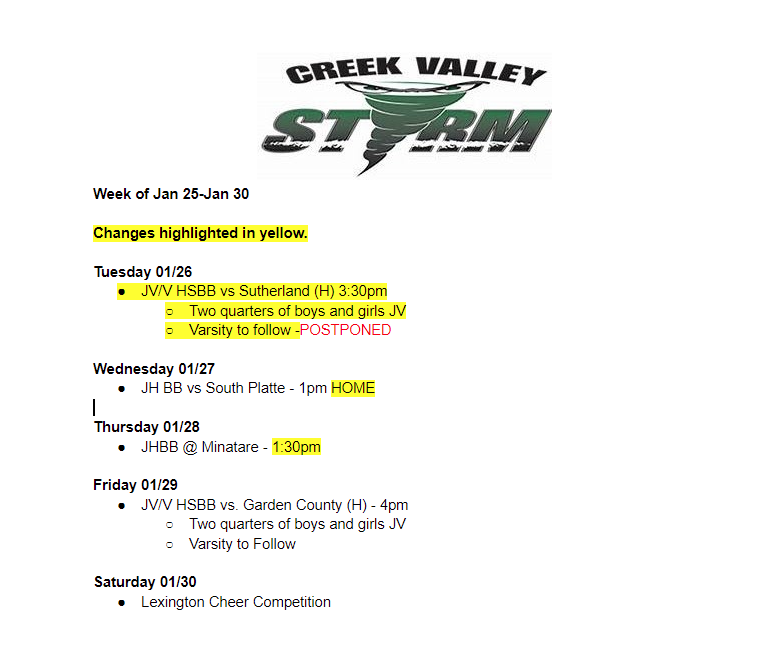 Today's games vs Sutherland have been cancelled, due to Sutherland not having school (weather related). We are trying to reschedule the games.

Good luck to the varsity boys basketball team today, as they compete in the MAC Consolation Final. Opponent is Leyton, and game time is 4:45 pm in Bridgeport. Streaming is available at
https://striv.tv/channel/bridgeport/
. Go Storm! #StormSTRONG

Be loud, wear green! MAC Consolation Final tomorrow at 4:45 pm. Go Storm! #StormSTRONG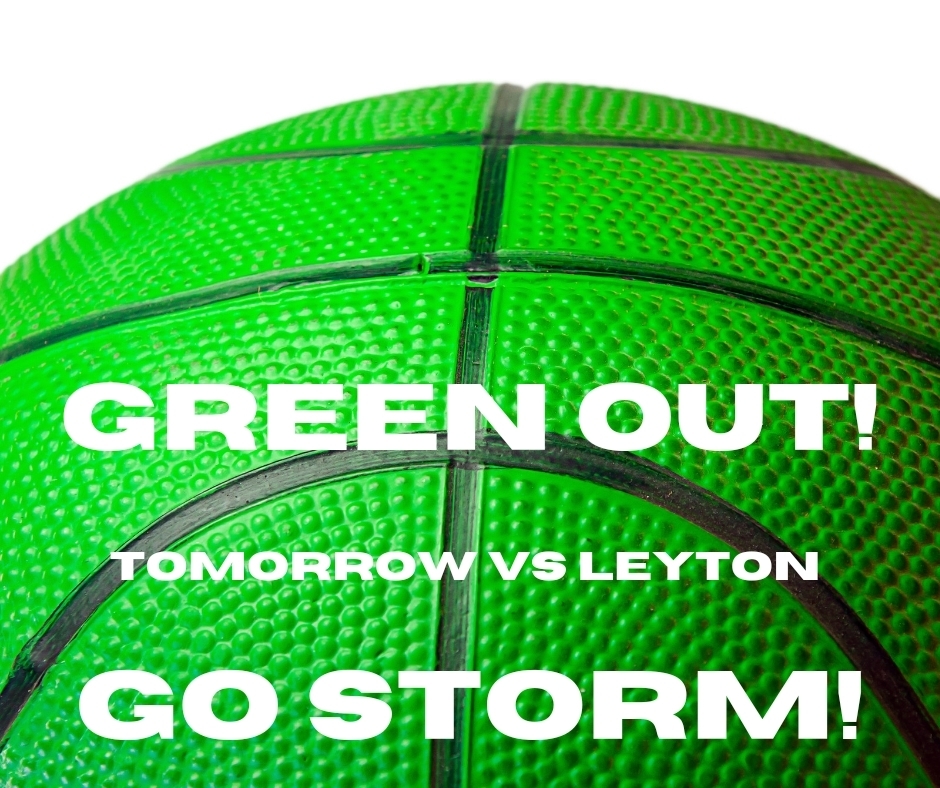 Good luck to the boys basketball team as they travel to Bridgeport for MAC Tournament semi-final action today. They will battle Potter-Dix at 4:45 pm. Games can be streamed at
https://striv.tv/channel/bridgeport/
. #StormSTRONG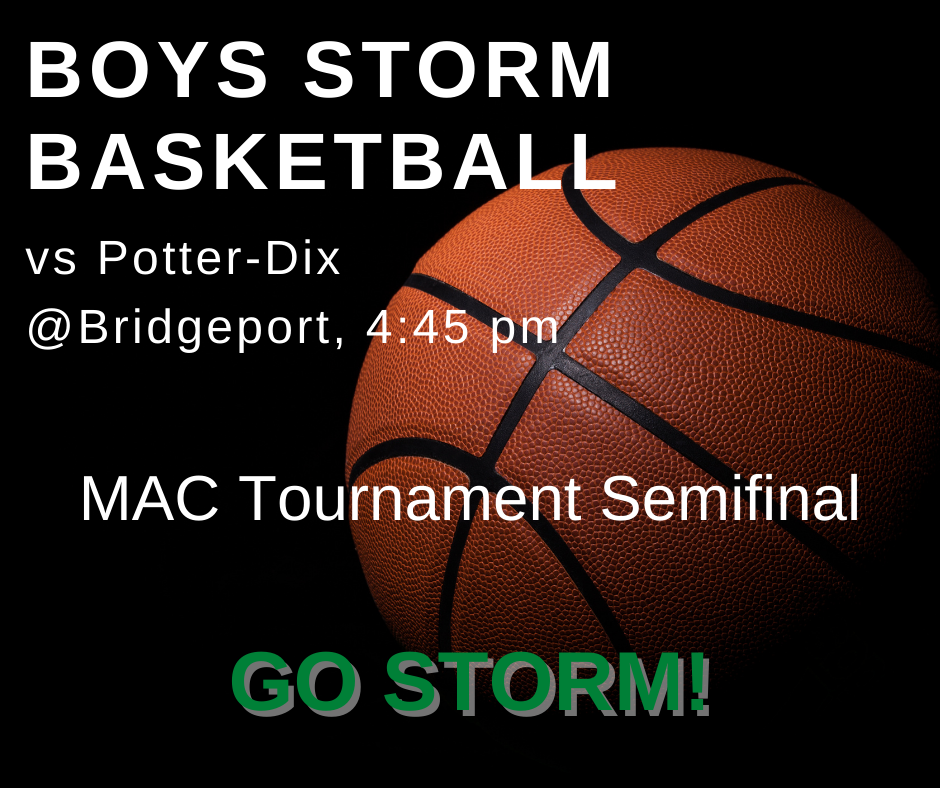 Good luck to the boys varsity basketball team, as they travel to Big Springs today to take on the Blue Knights in first-round MAC tournament play. Game time is 6:30 pm. Games can be streamed at
https://www.youtube.com/user/SouthPlatteSchools
. #StormSTRONG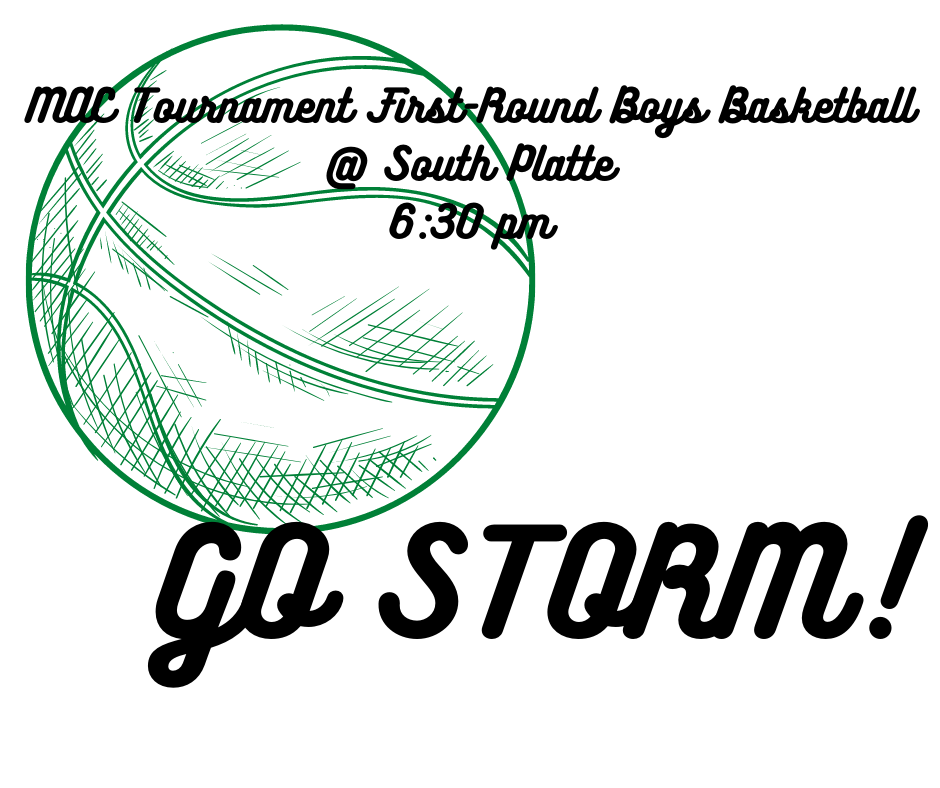 Good luck to our Varsity Girls Basketball team, as they travel to Bayard today for first round MACtion. Game time is 6:30 pm. Games can be streamed at
https://striv.tv/channel/bayard/
. #StormSTRONG

It's gameday! The Storm host the Tigers from Paxton in JV (boys only) and varsity matchups this afternoon. Start time is 4:30 pm. Games can be streamed on our Youtube page at
https://www.youtube.com/c/CreekValleyStorm
. #StormSTRONG