Come support the Creek Valley Early Learning Centers on Monday night during the downtown Christmas celebration. Warm up with a bowl of soup after visiting Santa!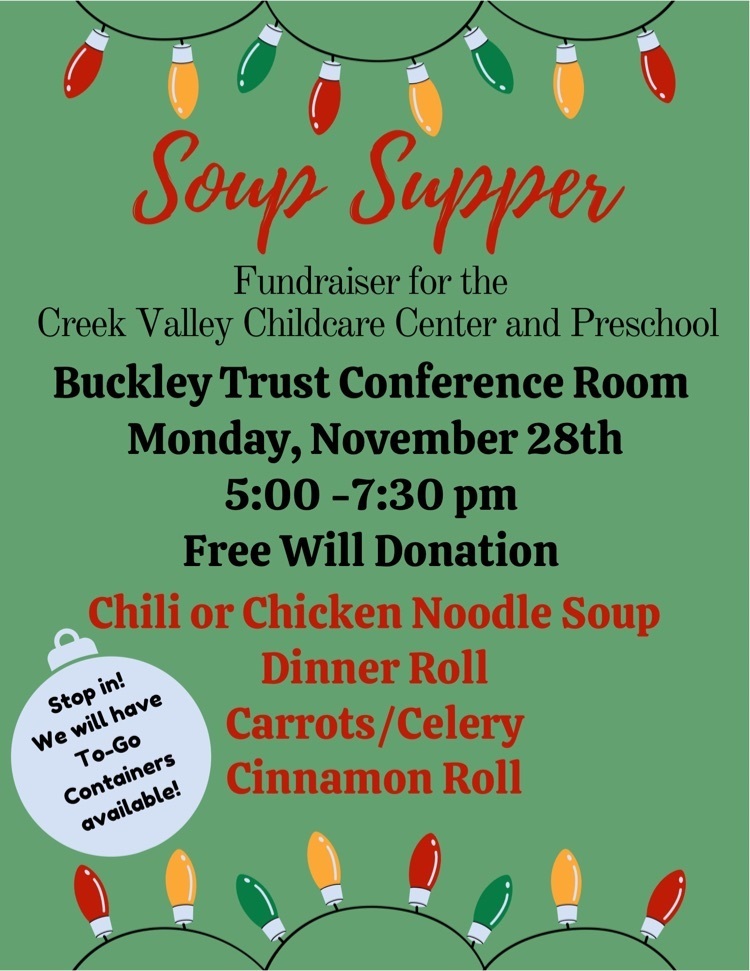 NOTICE OF BOARD OF EDUCATION SPECIAL MEETING Notice is hereby given that a special meeting of the Board of Education, Creek Valley Schools, School District #25, will be held on Tuesday, November 29, 2022, at 6:00 p.m., in the elementary school library at the Creek Valley Elementary School in Chappell, Nebraska, for the purpose of accepting the resignation of Patrick Ningen, superintendent, effective June 30, 2023, and to approve the hiring of a superintendent search service. Such meeting is open to the public. This meeting may also be attended electronically through Zoom using the number 315 325 3832. An agenda for such meeting, continuously current, is available for public inspection during normal business hours at the office of the Superintendent of Schools, however, such agenda may be modified at said meeting. Patrick Ningen, Superintendent
Help prevent a shortage of type O blood! O+ and O- blood are the most in-demand blood types, helping patients facing life-threatening conditions & emergencies every day. The Red Cross needs more type O donors now. Please sign up to help by giving blood with Creek Valley High School on Monday, Nov. 28 at the Fire Hall from 10 a.m. to 4 p.m. rcblood.org/donate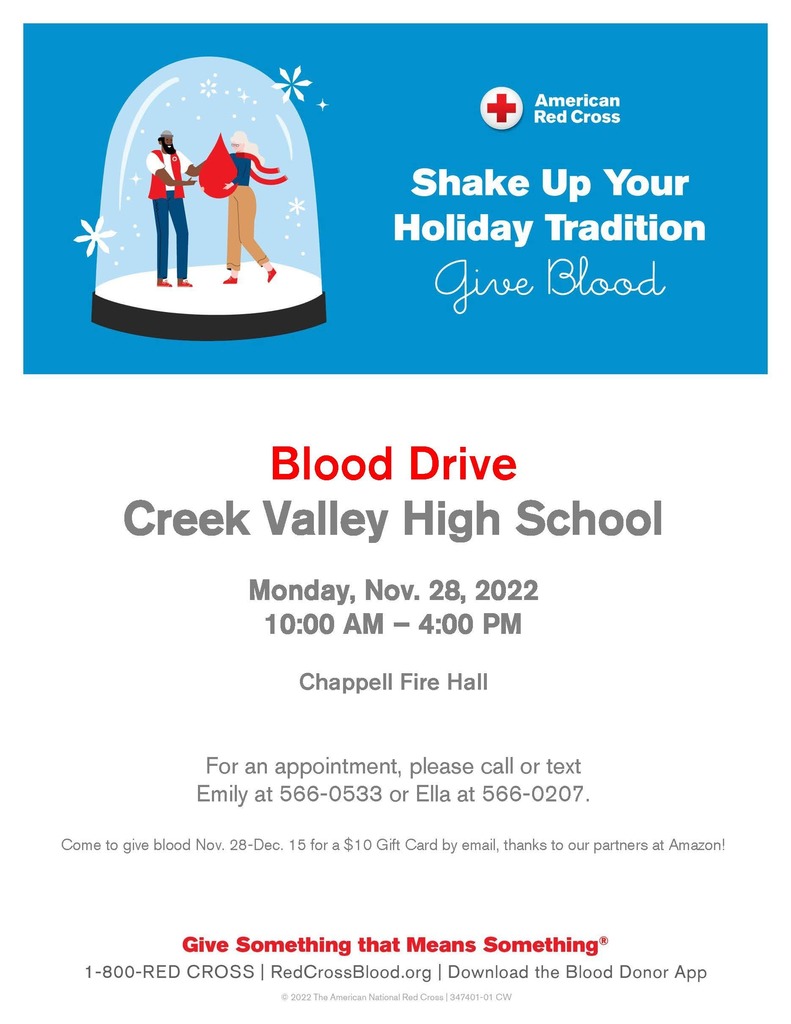 Congratulations to Chaelin, Jentry, and Karsyn for being voted MAC Honorable Mention for the 2022 volleyball season!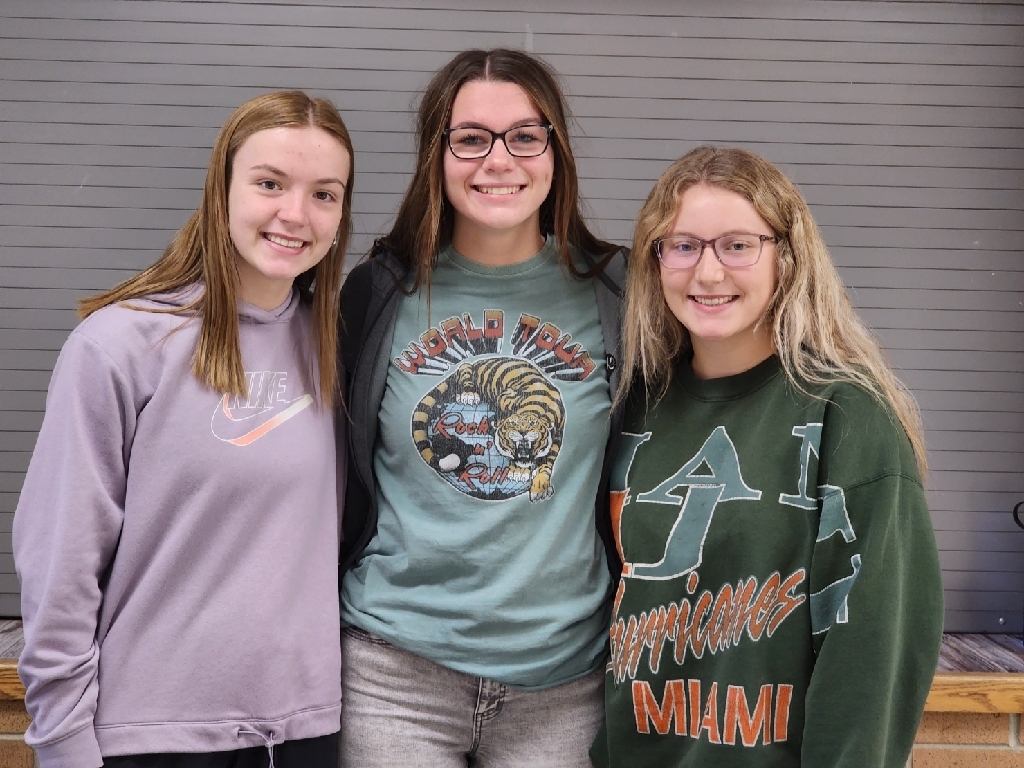 Congratulations to Seth and Zander! Both received 2nd Team All District Offense and MAC All-Conference 2nd Team for the 2022 football season. Great job boys!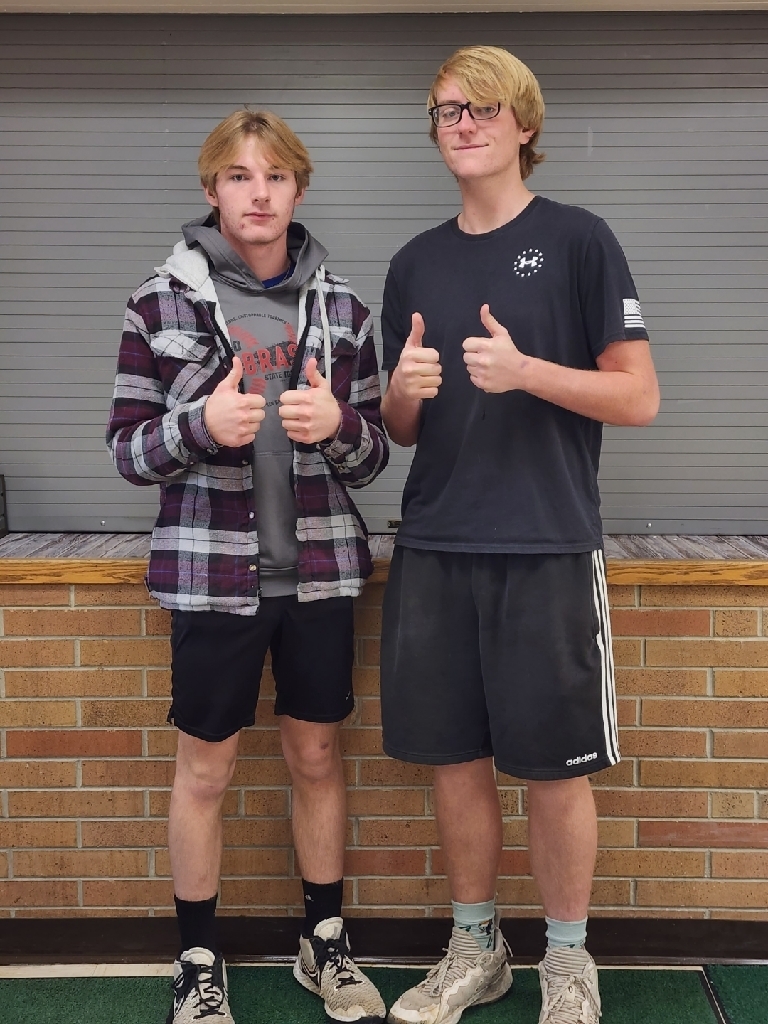 We are about to push an important update for the Creek Valley Mobile app! The district app now offers class streams, class announcements, and parent-teacher chat. Be looking for an invite in your email on Thursday, 11/17 after 1pm. The email will explain to you have to get connected. Be looking for more information to come tomorrow! Download for Android
https://bit.ly/35XXP9T
Download for iPhone
https://apple.co/3kLYy2b
We still have spots available for the the kids projects, tree project and acrylic painting! Email Mrs. Oliverius or call the HS to register!
Congratulations to Chaelin Polk, Jentry Snell and Karsyn Burgman for being voted MAC Honorable Mention for the 2022 Volleyball Season!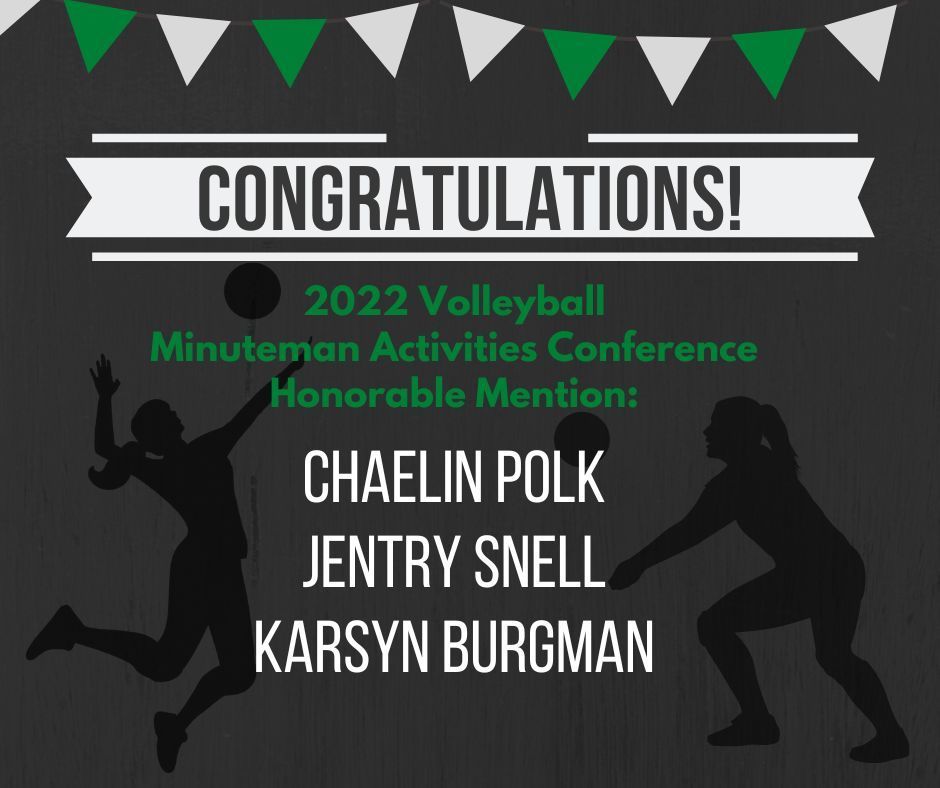 Art display at the Veterans Day program today. Thank you to all our Veterans!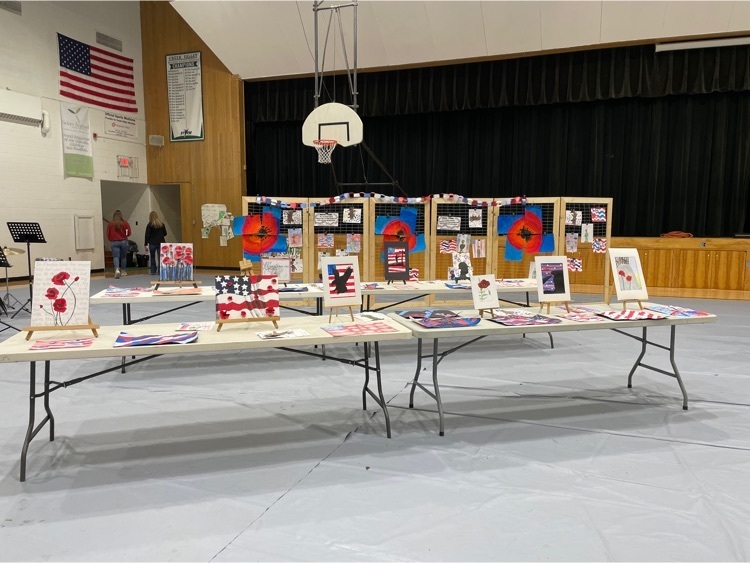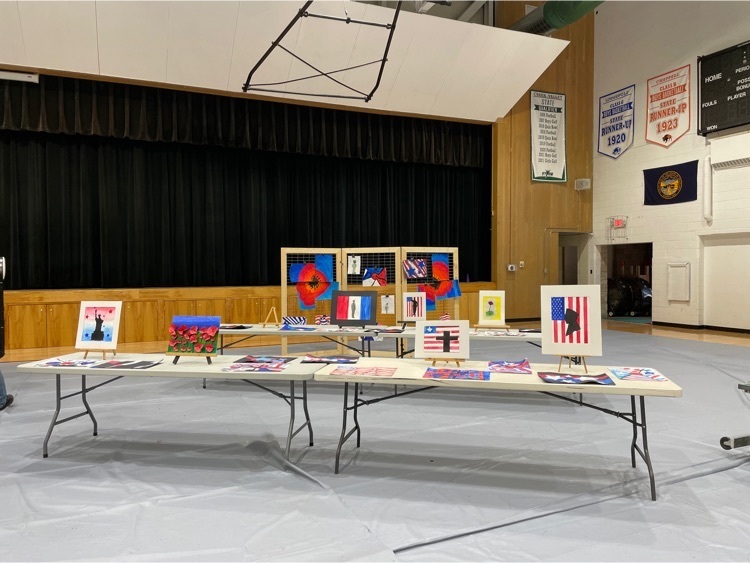 Members of our Restorative Practices Committee spoke at our monthly board meeting last night. They talked about the program implementation thus far, the expectations matrix, the Community Building Circles, and our upcoming training with Kelvin Oliver. It was a great presentation!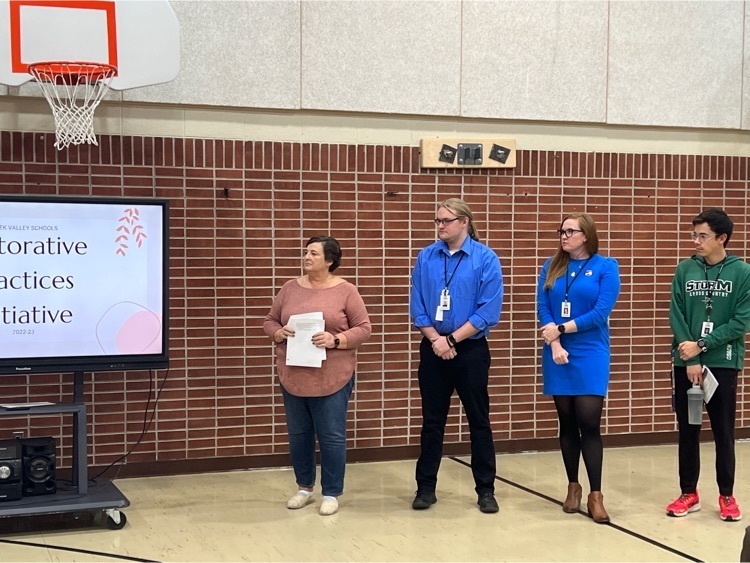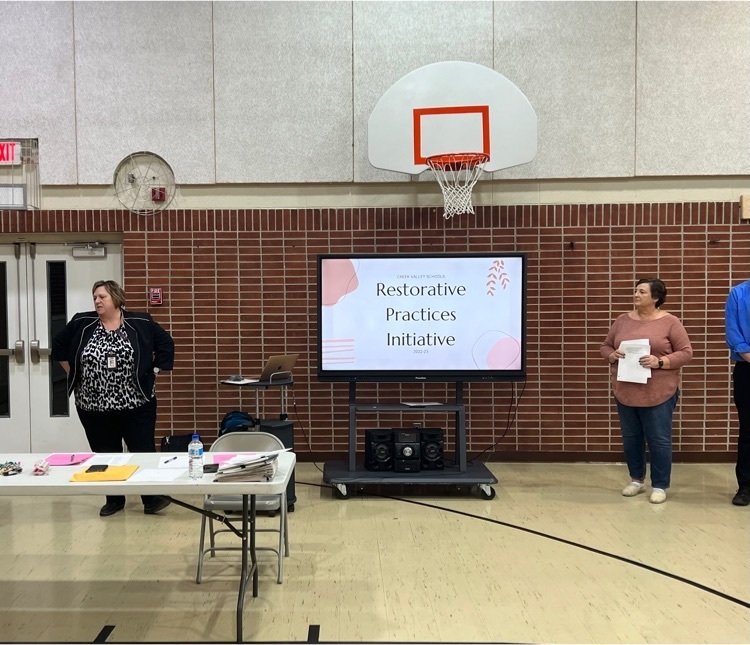 Congratulations to all of the students who made the Honor Roll for Quarter 1. Keep up the hard work!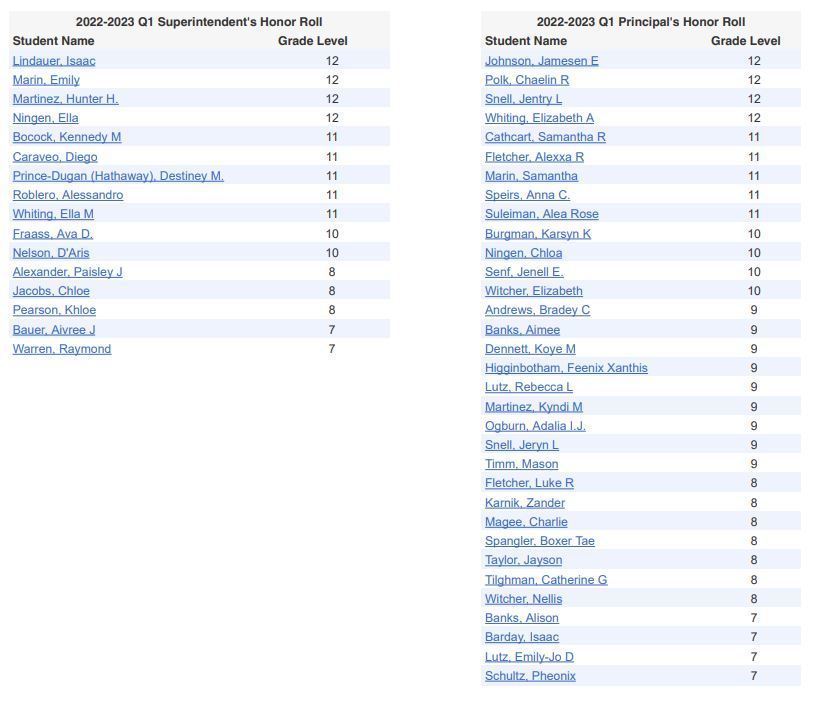 As part of their American Government class, the seniors got to talk with and learn from our officials about how local government works. Thank you for giving us your time and for providing the delicious lunch!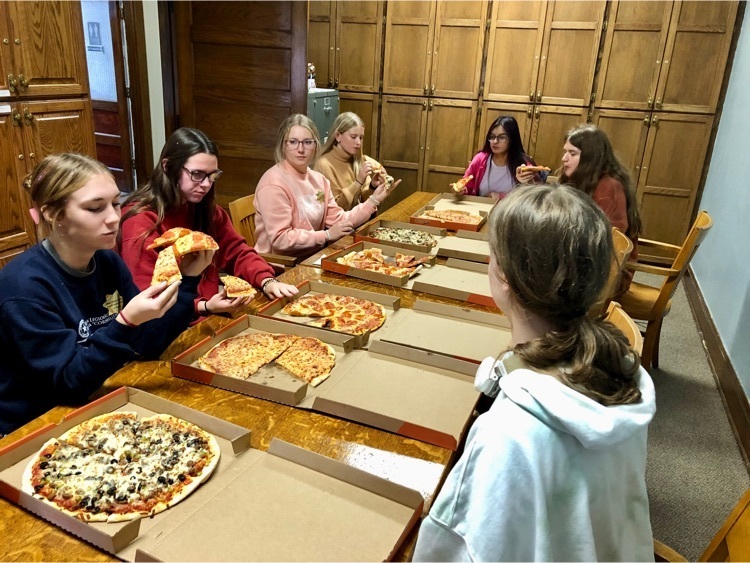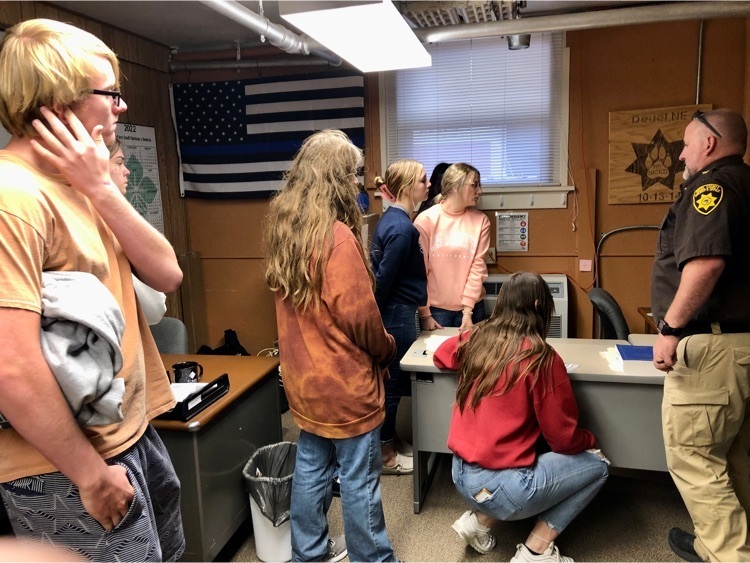 Creek Valley Community Art Night is on November 17th at 6:00 p.m. Call the high school or email Mrs. Oliverius at
trinity.oliverius@cvsstorm.com
to register!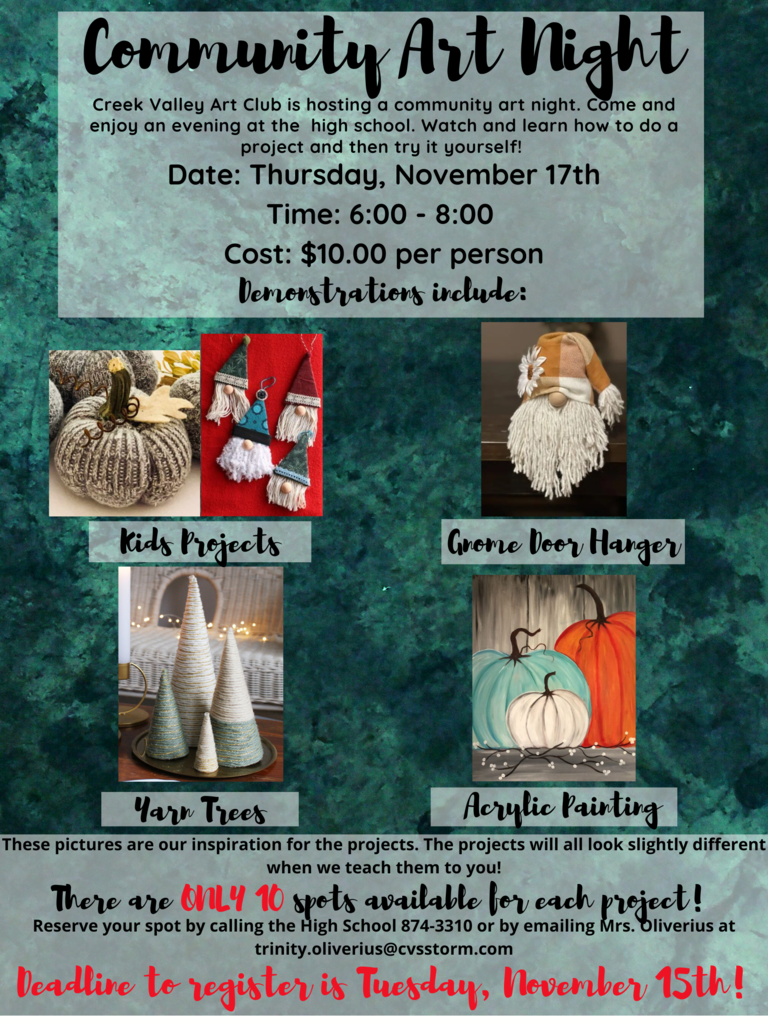 Some play dough art for science class. Daris using play-dough for the classification of specimen's.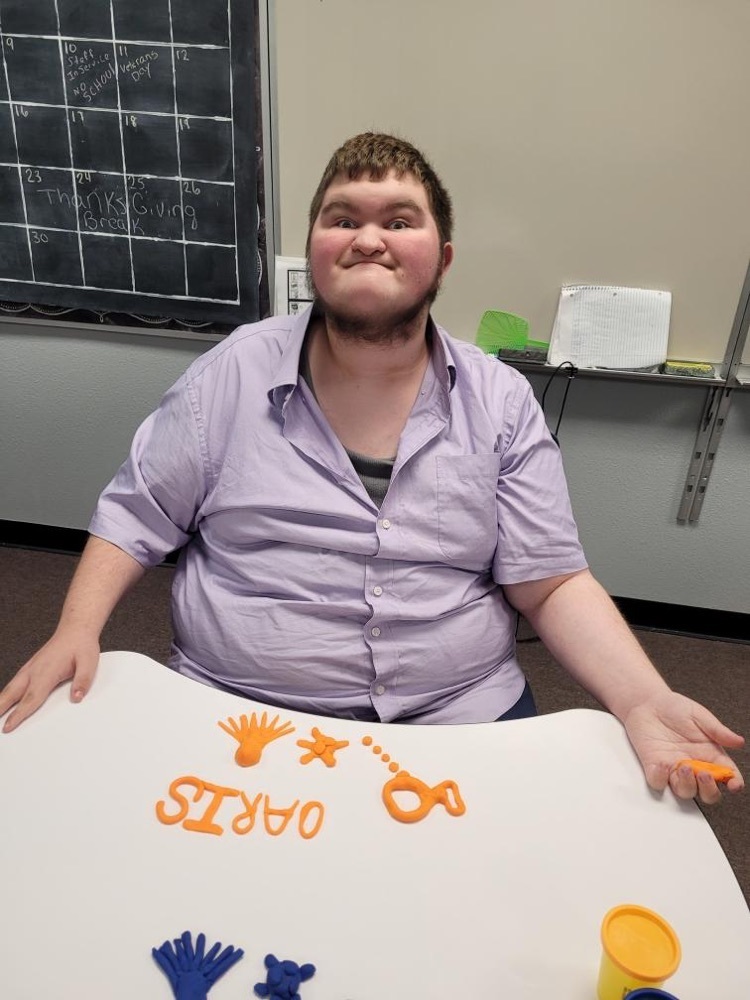 Any high school student wanting to take the ACT on December 10... your deadline to sign up is this Friday, November 4.


When high school kids find out Mrs. Riley class is in the contest on the Big Boy, we all huddle around the computer to cheer them on. Way to go 5th graders who won some big bucks for their class.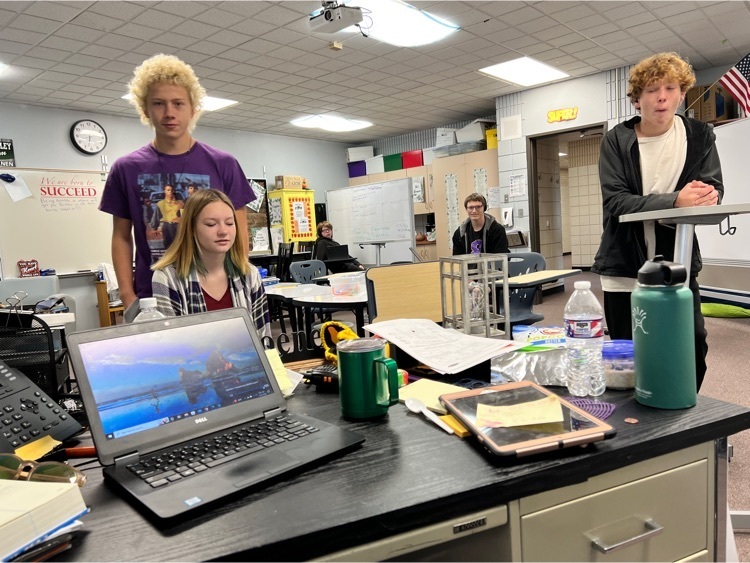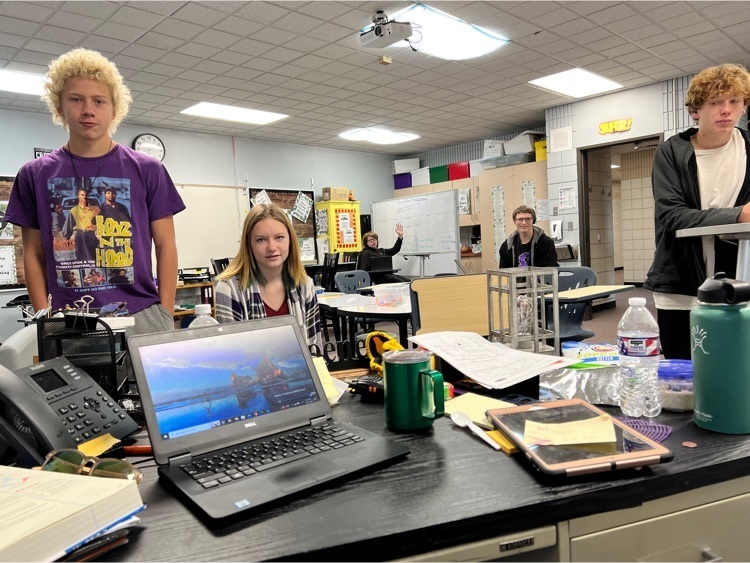 The Animal Biology class made edible animal cells. They enjoyed eating their creations after reviewing what the different parts do.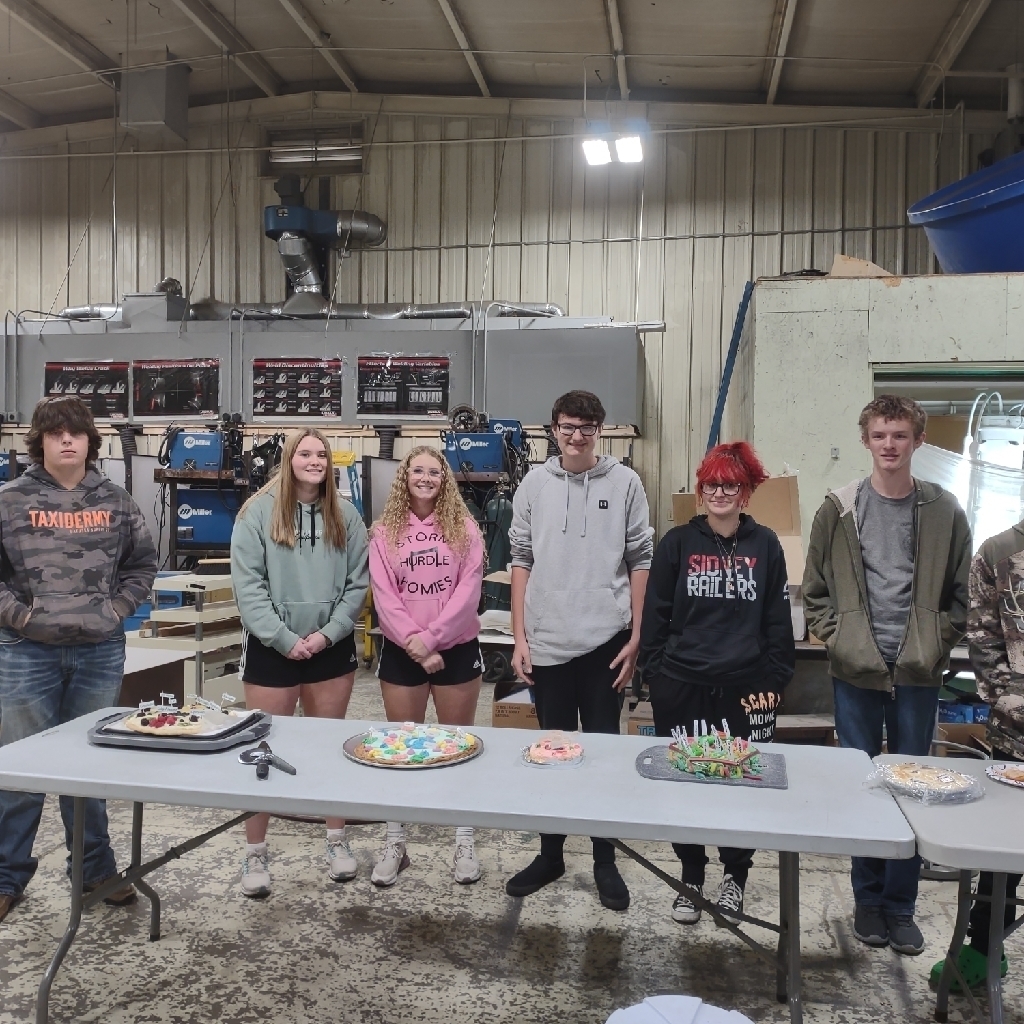 The 2021-2022 yearbooks are here and available for purchase. They are $20 each. See Miss Hill or stop in the high school office. If you are interested in previous years, we can probably get those as well.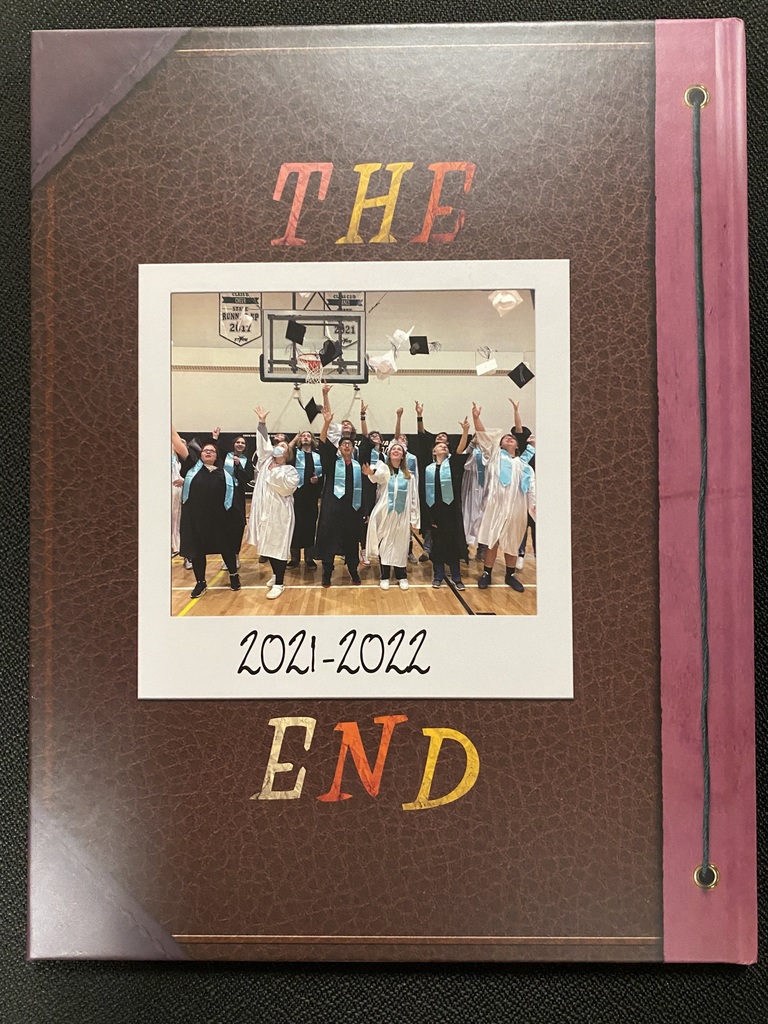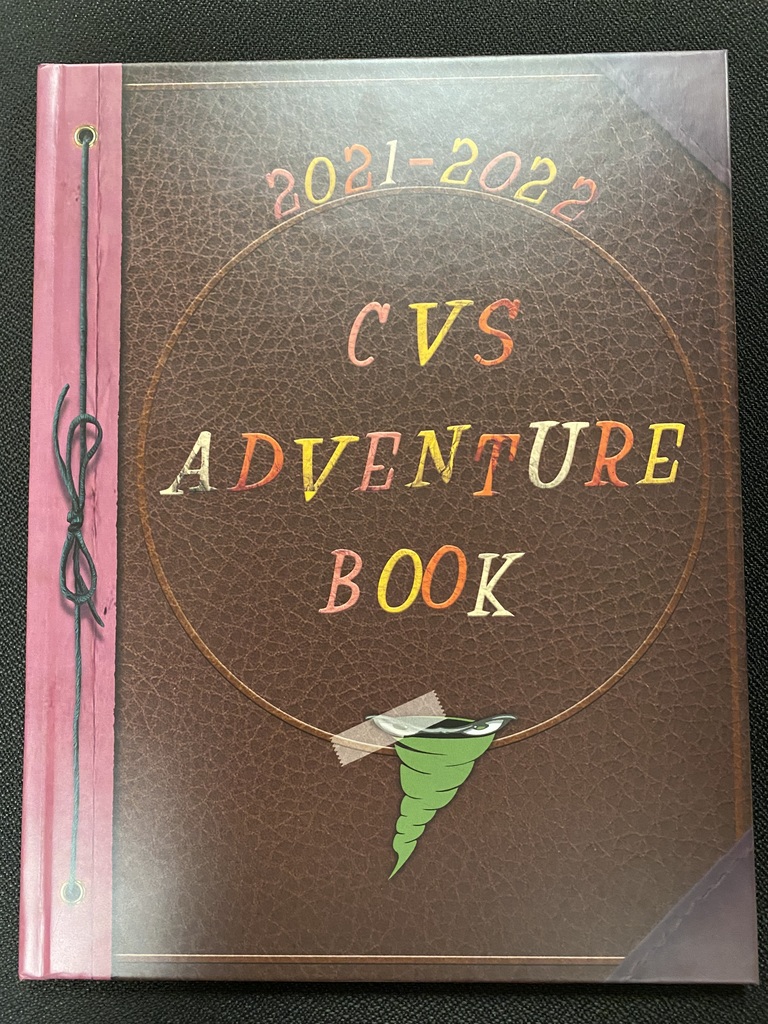 Are you interested in traveling to Europe in June of 2023? There will be an Informational Meeting in Miss Hill's classroom on Thursday, November 3 at 6:00 p.m.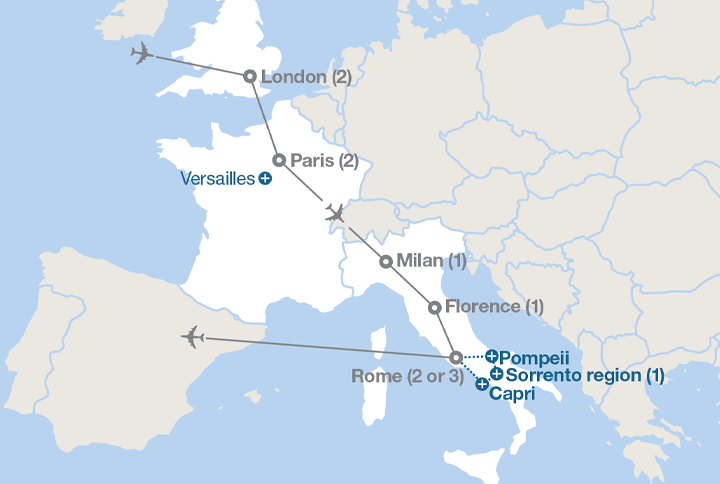 The Storm Store is looking for donations! Thanks for the support!